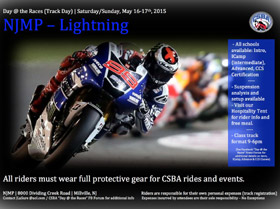 This weekend marks our second track day event in 2015, and we continue to experience the fruits of our labor unfold from new starts and beginnings to seasoned riders coming out to enjoy the day, our "Day @ the Races" venue has something for everyone. We give praise! Greetings and thanks to everyone in attendance. As always, big thanks go out to our 2015 sponsors and partners. Our hedge of protection continued to guard us as there were riders down in each group.
It seems each time we do this, we get better and better with our setup. This time because of the wind and potential rain, we experimented with using the trailer as a block and setting up the tent in front of it – that seemed to work well.
We had plenty of wind, but our camp stood still for 48 hours (yes, we arrived Friday night and stayed setup until 6pm on Sunday). For this event, we mainly had friends that were in attendance. Our "Day @ the Races" venue is family centered, so we encourage members to bring their family. Nelson and Lisa brought their girls, and Luis did too…
Read more...