Christian Sport Bike Association Eastern Pennsylvania Chapter Officers are unpaid volunteers. Feel free to email an officer with any questions or concerns you may have regarding the Christian Sport Bike Association.
John Lasure Jr.
Eastern Pennsylvania Chapter President / CSBA National Vice President
Email: This email address is being protected from spambots. You need JavaScript enabled to view it.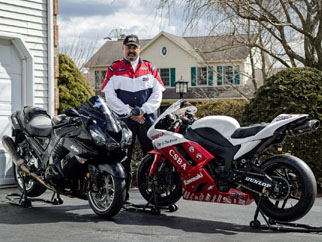 John was appointed as the Chapter President of The Christian Sport Bike Association Eastern Pennsylvania Chapter in January of 2013. He has been with the organization for more than 15 years and has shown his true devotion to the organization and the Lord during that time. His upbeat personality, fantastic communication skills, and networking abilities have allowed the chapter to expand its reach and has taken the Lord's word to less common venues. He began by spreading the word at weekend bike gatherings and shows at motorcycle dealerships. Then in the Spring of 2013 he started the "CSBA Day at the Races" track day events, which has grown rapidly and led to additional membership within the CSBA, as well as some sponsorship from local, regional, and national companies. It also attracted the attention of the publishers at SportBikes, Inc. Magazine who conducted an interview with him about the CSBA and the CSBA Day @ the Races program. The article titled "Know Your Role: A Club of Another Cloth" was featured in the December 2014 issue of the magazine and may be read online through the following link: Click to View Article.

John's contributions to the organization have been widely recognized and on September 23, 2016 he was appointed by the Christian Sport Bike Association Board of Director's to the role of National Vice President in response to his dedication, hard work, and successful achievements as a Chapter President.

John has proven he has the capability to lead on multiple occasions and his promotion to the leadership role is well deserved. Feel free to contact him for information on our organization. Better yet come join him for a ride!
Chris Roddick
Eastern Pennsylvania Chapter Vice President / Website Administrator
Email: This email address is being protected from spambots. You need JavaScript enabled to view it.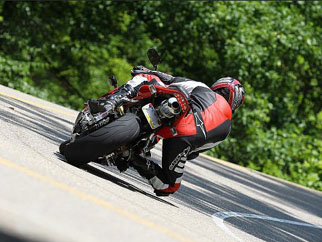 Chris has been with the Christian Sport Bike Association Eastern Pennsylvania Chapter since 2009. Shortly after joining us he quickly became an integral part of the chapter by assisting in developing new ride routes, conducting reconnaissance of those routes, and by assisting to lead other riders through those routes. Then in 2010 he decided to use his design background to build and maintain our chapter website as a tool to promote the organization and network with others who may be interested in our mission. The website was well received and helped lead to an increase in membership and awareness. In response to the continued growth of our organization and the addition of several new programs, he redesigned the website again in 2015, which is the current version you are viewing today.
In addition to being the Website Administrator, Chris also actively participates in assisting with ride functions while acting as a mentor to other riders who attend our events.
Laurence Scott
Photographer / Media Relations

Email: This email address is being protected from spambots. You need JavaScript enabled to view it.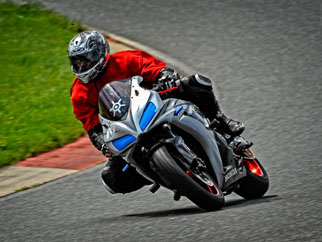 Larry attended his first CSBA ride in 2012 and instantly became more involved with our Chapter. As it turns out, he has a knack for photography and its no surprise he was our candidate for our media relations area. The majority of the beautiful photos displayed on our website were taken by him and he gives us a different perspective on our relationships with one another and the Lord through his skill. More of Larry's photography work can be found on his photo sharing website at http://redlineimages.smugmug.com/. To request the use of any photograph's on our website you should contact him first.
Rick Johnson
Outreach Special Projects

Email: This email address is being protected from spambots. You need JavaScript enabled to view it.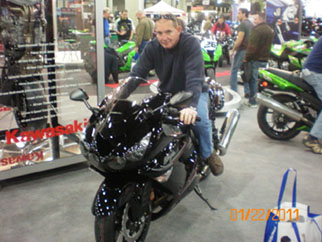 Rick has been with the CSBA for several years and has been appointed to our special projects area. He is in charge of organizing outreach opportunities and acquiring community service projects. So if your a non-profit looking for some assistance in just about anything, he is the man to communicate with. From speaking to a congregation or flipping burgers at a local bike night, to helping build a home, we are able and willing to assist. We are fortunate to have a group of men and women with many talents and Rick knows how to create an excellent team to tackle any task. Aside from community service projects, Rick has also assisted us in getting our logo redrawn and facilitated some of our promotional materials.
Mark Hamm
CSBA National President

Email: This email address is being protected from spambots. You need JavaScript enabled to view it.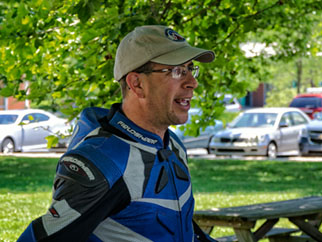 For nearly a decade, Mark Hamm was the Chapter President of the Eastern Pennsylvania Chapter of the Christian Sport Bike Association. In January 2013, he was appointed as the National President of the Christian Sport Bike Association. He is devoted to his family, friends, and the CSBA organization from which he has formed a mentorship by providing men and women with moral, ethical, and spiritual support as they seek his guidance. He does it without hesitation and sometimes it requires him to make sacrifices, but when the need is there he proudly complies, intervening appropriately as each case presents itself. Harnessing his foundation of strong spiritual testimony and love for God, Mark has worked hard to build upon a group of just a few men to create one of the larger chapters within the organization which now includes several men and women. He set goals each year and made sure to not only meet them, but often exceeded them. He has created a strong bond with believers and has shared the scripture with those who normally choose not to hear the word of God. He is a leader and has proven that time and time again!