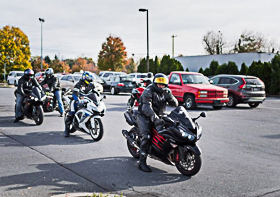 It's always a blessing to enjoy our CSBA Friends and Family; and today was another eventful day in the life of the CSBA adventures - join us for another action packed episode – read on….

Brrr – The day started quite cool. When I pushed out, I was riding in 40º temps, but the day was calling and forecasting for mid 50s, so I was ready to enjoy the roads. With fresh rubber and certified (LS) approved chain, I was ready to get some twisties in. I arrived on-site just before 9am, only to find our crew had just gone in to start their meal. So much for an early start.

To my surprise we had a cameo appearance by one of our CSBA members (Larry S) who is recovering for a duel he had with a cager. Thank God he arose victorious in the end (still with us) but not without some bumps and bruises. We won't call him T-Rex (inside joke) just yet, but he's working hard to be back to 100%. It was great to have him with us for breakfast. During breakfast we learned that Pink Barbie (Ana) was having battery issues and was planning to sit this one out. The team wasn't having our star not in the ranks so Mike G and KC to the rescue – they ran over to her house and got her going so she could make the ride – way to go team! We delayed our leaving time to accommodate, but no one had a problem if it meant the sun would rise higher and shed some heat on the day. We had one new rider with us, so to save time I went over the rules of the ride and road with him so when Barbie and our two heroes returned, we could leave immediately.
Read more...