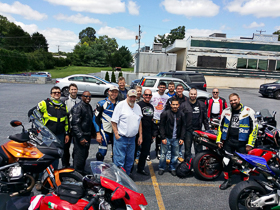 Who knew Berks County was full of bountiful corn fields? None of us, if you only ride there with the CSBA in December...

For the month of August, the PA CSBA postponed the annual Shamokin Screamer route because the much beloved Rt. 125 was recently covered in gravel, making it unsafe for motorcycles. We are hoping to be able to revisit the ride next month. As a result, the much neglected December ride was brought in as a substitute. The Berks County Blitz is a beautiful ride, provided you like green rolling hills, green grass, green trees, flowing streams, cornfield canyons, and some challenging back roads.

The August ride for the PA CSBA was also the first ride of the year to be run on its scheduled date! However, we did have to start an hour later, in order to allow the tail end of a storm front to move through. After some lingering clouds and drizzle made their way out, what was left was a beautifully sunny and breezy day that felt more like mid- to late-September than the beginning of August.
Read more...