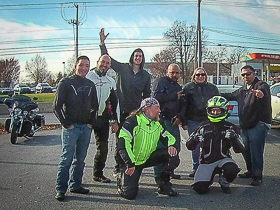 The December ride is usually a tough sell; beyond the usual work, family, and equipment issues that can sideline riders, there are many who are not able to endure the typical December temperatures. But, for those willing and able to brave the cold start, there is a fun route in the offing!
And so it began for the 2017 edition. The temps were below freezing, everywhere in the area, for the ride to meet up at the Starlite Diner. But, the forecasts held the promise of a sunny day in the mid- to upper-40's by mid-morning. A couple riders planned to drive by and join us for breakfast, while another unlucky rider lost his cold weather gloves on the way and had to abandon his plan to ride with the group. So, we gathered and we ate while waiting for things to get above freezing. Ultimately, four of us suited up and a little before 11AM, we headed out for the most back-road route of the year (again).
And, it was worth the wait! This is not the time of year for edging out one's Chicken Strips, but the route is technical, fun, and scenic, nonetheless. As mentioned in August, this route passes through a lot of farmland, which is all harvested and cleared off by this time of year. So, in contrast to the lush green canyons of summer, this ride offers long, clear sightlines through the scenery (as you can see in some of the pictures). At one point, instead of following a pick-up truck towing an old Mustang on a trailer, Rusty decided to improvise in order to find some "new" scenery.
Read more...