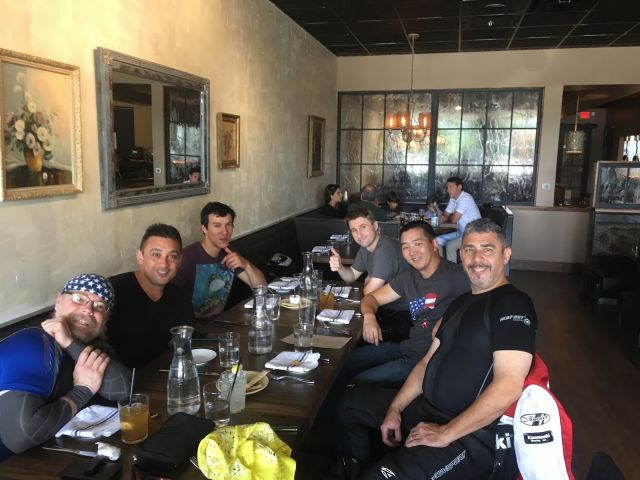 We give thanks to God for His wisdom and His Blessings….

Rain Date Rides – Need I say more – always interesting… Rain date rides are usually not very popular – but that was not the case this time. Thanks go out to our 6 gentlemen and 1 lady (Bev) that came out to enjoy a big breakfast and a full day of riding with us. The roads weren't the best – but the company was outstanding! It was a BK Broiler of a day – but we were determined to get in some twisties as this represented our first official ride of the year (due to all the rain cancelations). We broke bread, enjoyed our stories, and then ventured out to prepare to launch.

After breakfast, we did our standard ride meeting and then prepared for our ride. I cautioned the team the roads were going to be challenging due to wash out, debris and other issues – and thus why were planning to dial down the pace a bit. Russ (aka Rusty Bucket) was most familiar with the revised route having done a recon on the roads recently, so he led us off.

The roads were a little wet and sure enough, we lost our trailing rider nearly in our first turn of our back roads route. We quickly got him settled – thank goodness no operator injury as it was just a low side into a winding left swing – no harm/ no foul. After a little roadside repair work, we were back underway. Hats off to being a good trooper and wanting to keep riding. (must remember to ride your own ride – the group will always wait)
Aside from that – the roads didn't disappoint.
Read more...