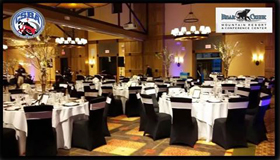 The Eastern Pennsylvania Chapter of the Christian Sport Bike Association in partnership with our CSBA Day at the Races will host our first annual end of season 2016 Holiday Extravaganza Banquet Party at the Bear Creek Mountain Resort. Mark your calendars - this will be a fun night.
RSVP (1 confirmed "Going" assumes 2 tickets unless you tell us otherwise). You can book now - banquet room/ hotel rooms are now confirmed - on or before Tuesday, October 18th to reserve your seats (and or rooms) so we can give a proper head count. Tickets will be $45.00 / per person - $90.00 for a couple (including the tax and gratuity fees breakdown).
We have received confirmation for the date of 11/19 and also for a block of 10 rooms at a discounted price. Ticket price includes the "All you can eat Buffet" and dancing/entertainment for the evening. We'll be in the Winterberry/Hemlock Banquet Room.
Read more...