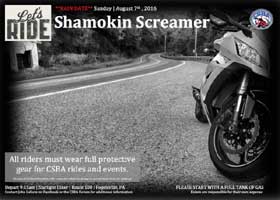 We give thanks to God for His wisdom and His Blessings….
And what a blessed day it was; one for the record books since the weather was absolutely perfect. Rain date rides are usually not very popular – but that was not the case today. Big ups go out to all that sacrificed their Sunday to spend it with us. You came to ride, and ride we did! With 29 in attendance, there was plenty to do and organize. Today's fellowship extended to family teams again with a full family coming out to enjoy breakfast with us; father/son riding pair, brother riding pair, and lots of new faces that haven't ridden with us before. We also had veteran CSBA members that reported this was their first ride this year, along with 1 that hadn't ridden with us for at least a few years; so today folks really came out to enjoy the roads with us. We broke bread in normal fashion, and then took that time to forge new connections and friends of old.
After breakfast, we did our standard ride meeting and then organized into 3 groups. Since we had some newer riders join the ride, we wanted to make sure we gave them the attention they deserve – so Russ (AKA Rusty Bucket) took ownership of that group, with Kat and Carl there to sweep the rear. J-Mac (riding 2-up) handled the chase group with Chris R. riding his sweep. Up in the front was myself with Joe C. watching my back. We waited a little longer than normal for a few riders we thought were coming, but as we approached 10a and no shows, it was time to exit stage left especially since we had tight reservations for our lunch stop. With it being a Sunday, we knew we had to hit it and keep the pace moving if we were to beat the churchgoers to the lunch spot.
Read more...