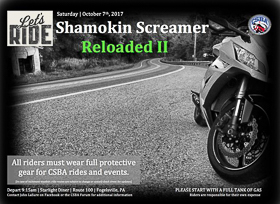 It's always a blessing to enjoy our CSBA Family – and for that fellowship I am most grateful….

Finally – we actually pulled off a scheduled ride this year – and it was so worth the wait! People were itching for a good ride (22 in attendance) on what would be the perfect day for a ride – beautiful weather, beautiful scenery and beautiful people. The only thing that wasn't perfect (if you were in the slower ranks) was the traffic (more on that later in this report).

For the first time in a long time, we had a lot of experienced riders in the ranks – people came ready to get it in – which is always a good thing. Our man Ron W. was so serious that he brought his bike in a trailer – he was determined not to miss the day. (so awesome to have him with us – see picture)
Read more...