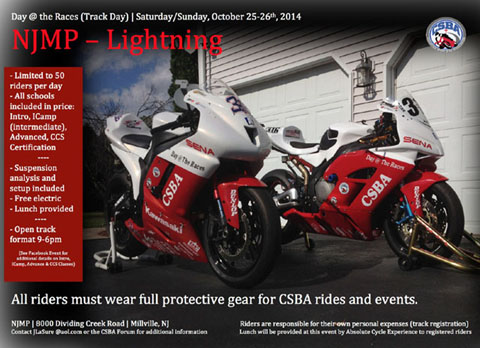 Once again the CSBA attended an outing with Absolute Cycle Experience, I believe this was the fifth and final time this season. The weekend weather was incredible for October, sunny and near 70° both days, a real blessing. We were disappointed that John L. did not make the weekend, being pulled away by other commitments.
I rolled in Saturday morning around 7:30, Dan R. & his friend Vincent A. were already on site and unloading. It was an exciting day for Vincent, being his first time with us and on a track. We helped each other unload and prepare for the day. Around 8 a surprise came pulling up, John D. Showed up to support us for the weekend. It was great having him there to help us through the day, provide tips for riding, assist with any bike needs, and of course have the coffee brewing. The day was a success for the most part, I improved greatly over my two day attendance, Dan & Vincent also had their bikes moving at a fast pace. Through out the day we all attended the ACE Intro or Advanced rider training. The coaches are very knowledgeable, giving us good advice through our sessions. I'm happy to report we had no injuries, but there was one high side on turn 7 at lightning with in our group, his bike suffered some minor damage.
As Saturday's riding came to an end, we helped Dan and Vincent load up for their trip home. John D. And I went out for a good meal and conversation, some needed down time to rest for the next day. We spent the night onsite at NJMP and woke Sunday to a foggy but nice morning. I attended another full day of Advanced rider training. It was another fun filled day of riding and tweaking techniques. John D. Departed about 4 in the afternoon and I finished the riding day, rolling out about 7 PM.
ACE and Roy executed a great weekend and for everyone and as always provided a good environment and made us feel welcome. Signing off now, till the next action packed season starts after the winter. J-Mac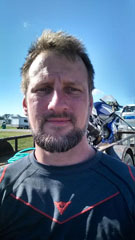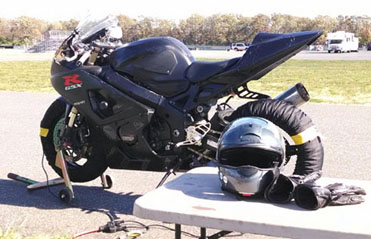 Thanks so much J-Mac on a great write-up! Talk about "way to pass the torch" and keep the path lit - well done sir! In our ever growing task to build on this venue and introduce more riders to controlled track day racing, we support our continued vision of what the CSBA "Day @ the Races" mission is all about: "…to enjoy a joyful spirit and fellowship with fellow riders, while always learning and testing our limits for this passion we have for 2 wheeled movement. We shouldn't be afraid to test our limits as that's how true growth in anything is experienced..." If you've never done a track day, do yourself a favor and try to get in at least one session. It will surely make you a better street rider. The pace is yours to set; grab a partner and explore.
Thanks again for everyone's support in our ride/event and our efforts for the CSBA "Day @ the Races" venue in 2014. This marks our last track day event this year. Absolute will be hosting a banquet dinner on November 22nd, 2014 - so look for more information concerning that soon. In the meantime (weather permitting), come out and enjoy our next riding event, which is the CSBA Ride "Pounding the Poconos" on November 1st, 2014. Hopefully we'll see you there!
Check our Facebook Forum Page (https://www.facebook.com/groups/ChristianSportbike/) and at this event's Facebook Event Page (https://www.facebook.com/events/721517547903049/) for additional information and pictures.
See you out there - Lets Ride! JLaSure
Scripture coverage for Track Day Event – October 25-26th, 2014
Who is Boss?
"Whatever you do, work at it with all your heart, as working for the Lord, not for men." (COLOSSIANS 3:23 NIV)
Even the most interesting job has it moments of routine or drudgery; even the most fascinating and fulfilling position requires contact with difficult and demanding people. No job is perfect, and no position can insulate us completely from life's tensions and conflicts. With some jobs the stress is almost constant - and, after a time, it takes it toll.
The Bible tells us two important truths about our work. First, it acknowledges that work - is work! After Adam and Eve sinned, God cast them out of Eden and declared that "by the sweat of your brow you will eat your food" (Genesis 3:19 NIV). But the Bible also tells us that God has given our work to us and that it has dignity and value in His eyes. It should in our eyes as well.
Whatever your job - no matter how difficult or enjoyable it is - "work at it with all your heart, as working for the Lord, not for men." It will make all the difference - in your attitude and your output.
In closing for our 2014 season, I'm so very thankful for our CSBA Family and Friends. This last entry serves as a testimony to how hard work is rewarded to us in so many ways. The blessings are countless. I've mentioned previously; no matter how fast you run your race, or how great your skills are (on and off the track), we are all created for God's purpose and should humble ourselves in our gifts and not over shadow those with lesser talent in our excellence areas. Be kind to your neighbor; be of good fruit and a helping hand; at the same time remember to shed the bad rotten fruit and negativity.
Blessings to all!
Leave a comment