This weekend marks our second track day event in 2015, and we continue to experience the fruits of our labor unfold from new starts and beginnings to seasoned riders coming out to enjoy the day, our "Day @ the Races" venue has something for everyone. We give praise! Greetings and thanks to everyone in attendance. As always, big thanks go out to our 2015 sponsors and partners. Our hedge of protection continued to guard us as there were riders down in each group.
It seems each time we do this, we get better and better with our setup. This time because of the wind and potential rain, we experimented with using the trailer as a block and setting up the tent in front of it – that seemed to work well.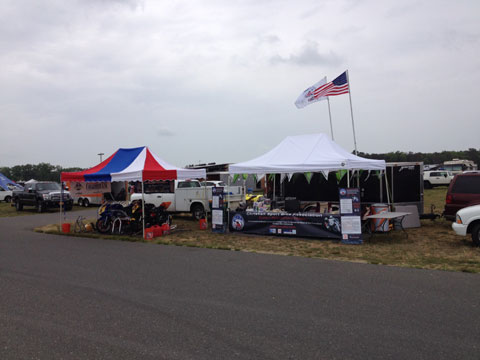 CSBA Hospitality Tent
We had plenty of wind, but our camp stood still for 48 hours (yes, we arrived Friday night and stayed setup until 6pm on Sunday). For this event, we mainly had friends that were in attendance. Our "Day @ the Races" venue is family centered, so we encourage members to bring their family. Nelson and Lisa brought their girls, and Luis did too…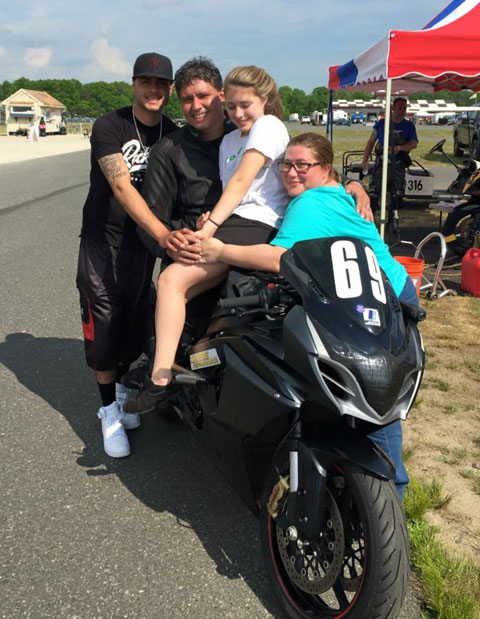 Luis, Brandi and Family
Luis is especially encouraging since he experienced an unfortunate accident that claimed his right leg a few years ago, but continues to show everyone what living a life of excellence is about. His can do positive spirit, and general loving and caring ways inspire all who meet him. He's nickname is "Uno-Leg" and is well known in the biking community in the Philly and Lancaster areas. Since his accident, he has become happily married, continues to enjoy riding his bike and even returned to his roots of track riding. He's a great friend and we were extremely blessed to have him and his family with us for this track day event.
So what happened? I can tell you it was a hot day and sometimes hot days are unforgiving to bikes. My Blade nearly overheated (ran 240+) and since we're not allowed to run antifreeze in my class, I grabbed some water wet additive and pulled the bike apart to add it, which did work to cool it down – but my computer must have forced my engine into protect mode which I wasn't able to reset. I had to sit out the day since I couldn't get my bike to raise above 5-6K RPMs – I did manage to get a few laps in… bummer.
On Sunday, Roy (ACE) made a very nice announcement for us, identified our tent and let folks know we would be holding a service of the word at lunch-time. However, with so many falls and reschedules at lunch time, we only had a few folks come sit with us, enjoy a meal and get the word, which I did deliver. The message was on being tender-hearted; give it a read below.
Our very own rising star Jim (J-Mac) was in the ranks heating up his tires and brought along a new friend (Guido) on Sunday. Kairi also stop by and brought his huge lenses and took some great pictures. We'll be looking for those to be posted on the event soon!
A few of us enjoyed a lovely dinner at the "Finish Line Pub" at NJMP's premier new restaurant on Saturday night. What a nice place. I can see many meals in my future there. ☺ Beers were less than $2.00, now how can you go wrong with that after a long day of riding?
For all those thinking of coming out – stop thinking and just go for it! I promise you a fun day – just look for our flags and pit near us to enjoy a day of great music, movies, great company and lots of bragging rights! We now set up for the entire weekend, so come down Friday nights and hang with us through Sunday!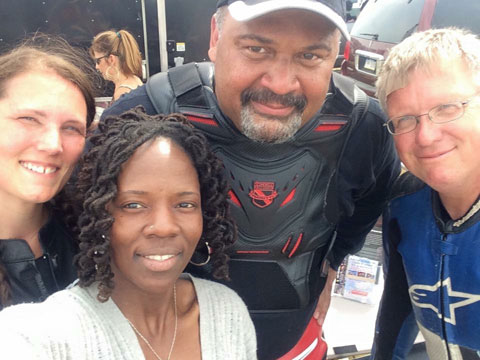 The Usual Suspects (Kat, SJ, Myself and John Dobson)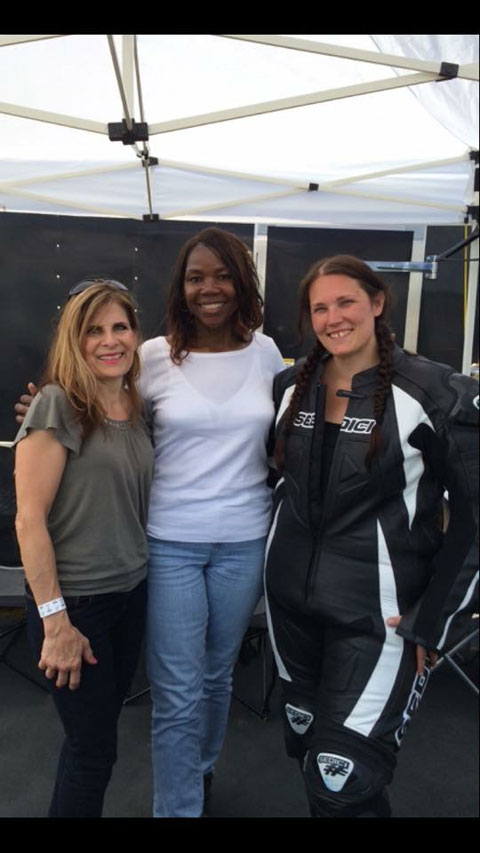 CSBA's Lovely Ladies (Jenn, Angie & Kat)
In our ever growing task to build on this venue and introduce more riders to controlled track day racing, we support our continued vision of what the CSBA "Day @ the Races" mission is all about: "...to enjoy a joyful spirit and fellowship with fellow riders, while always learning and testing our limits for this passion we have for 2 wheeled movement. We shouldn't be afraid to test our limits as that's how true growth in anything is experienced..." If you've never done a track day, do yourself a favor and try to get in at least one session. It will surely make you a better street rider. The pace is yours to set; grab a partner and explore.
Thanks again for everyone's support in our ride/event and our efforts for the CSBA "Day @ the Races" venue. Come out and enjoy our next riding event which is the famed "Poconos Screamer Ride" on June 6th, 2015. This is the one you won't want to miss!
Facebook Event Page: https://www.facebook.com/events/938679612837713/ Hopefully we'll see you there!
You can view additional pictures from this event on the Facebook Forum Page (https://www.facebook.com/groups/ChristianSportbike/) and at this event's Facebook Event Page (https://www.facebook.com/events/329775023878404/ )
See you out there - Lets Ride!
Scriptures for Track Day Event - May 17th, 2015
Grace and Tender Heartedness
Paul writes from a prison cell, explaining and encouraging us on how to be kind:
"Let no corrupt communication proceed out of your mouth, but that which is good to the use of edifying, that it may minister grace unto the hearers. And grieve not the holy Spirit of God, whereby ye are sealed unto the day of redemption. Let all bitterness, and wrath, and anger, and clamour, and evil speaking, be put away from you, with all malice: And be ye kind one to another, tenderhearted, forgiving one another, even as God for Christ's sake hath forgiven you."
EPHESIANS 4:29-32 NIV
What is the quality within a person that makes them very desirable? The kind of quality that you can't always put your finger on or recognize… but all you know is, "I like this person". Somehow, it's just there - this quality spans ages young and old, and yet, it's always very appealing and yields an attractiveness so desirable; most are drawn to the individual that has it.
In 2003, a survey was conducted to 37 different cultures and 16,000 people and the question was asked: What trait in your mate was the most important trait? People then asked, "are we talking about beauty – because beauty is only skin deep." So the true question is what inner beauty makes a person appear more attractive (regardless of age, young to old), more accepting.. Well what is it? It's a four (4) letter word that we all know and forget to call on… (Ask this question and see if they know it)
Everyone loves someone that is truly "KIND". Kindness is a very very important quality. You can't have that type of quality without it showing on the outside. No matter how physically attractive (or unattractive) a person is, if they are also kind – it's a natural attractiveness they carry. You are drawn to them, you enjoy their presence, you enjoy their fellowship. Generous, thoughtful, considerate (all forms of kindness) make those around us enjoy us. Have you ever seen the love that grandchildren have for their grandparents (usually)? It's because Grand Parents give true affection and love to those grandchildren – they are kind to them and those babies sense it.
Are you being kind to those you encounter? Are you experiencing kindness in your life? Would you consider yourself a kind person? You might say, "I'm having a bad day, my feet hurt, this traffic pisses me off, etc… " but these worldly things have nothing to do with us offering kindness. When we learn to transform ourselves to be more patient and kind to others, we will see a transformation happen in our lives. Give thanks for things that people do for you – you'll make their day and it will help you practice kindness.
We are called to love others as God loved us—not just when we feel like it, but always. Kindness is an extension of love, and we show His love when our kindness to others is constant and consistent. Try it on – I think you might just like it!
_______________________________________
In closing, as I usually mention in previous race reports; No matter how fast you run your race, or how great your skills are (on and off the track), we are all created for God's purpose and should humble ourselves in our gifts and not over shadow those with lesser talent in our excellence areas. Be of good fruit and shed the bad rotten fruit.
Blessings to all!
Leave a comment