Opening day and what a blessing to be able to continue offering our Day at the Races Venue - Praise God! Greetings and thanks to everyone in attendance, with continued appreciation and thanks to all our 2015 sponsors and partners. Our hedge of protection was surely apparent on this special weekend event.
In keeping with our ongoing theme for 2015, we continue to enjoy friends and family (both riders and spectators) in attendance for these events. We had CSBA members and family, national leadership, as well as the CSBA race team in attendance.
The lord was willing but the setup team was plagued with many challenges.
1: My primary tow vehicle engine blew – and the efforts to get a replacement engine didn't come together in time for the race weekend.
2: Our Plan B backup vehicle was too small to carry the load of the trailer – time to go to plan C
3: One of our members, not feeling 100% himself offered to pickup the trailer and bring it down Friday night, and then pick us up Sunday to trailer us back home. Plan C it was. It was a long night of repacking the trailer, and other misc logistics to get to NJMP. We secured our room and took a quick nap so we could start getting ready first thing in the morning. With more members arriving by 6am to help us setup, we quickly raised "Camp CSBA" Hospitality tent and was ready for action.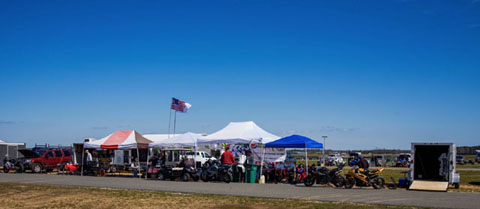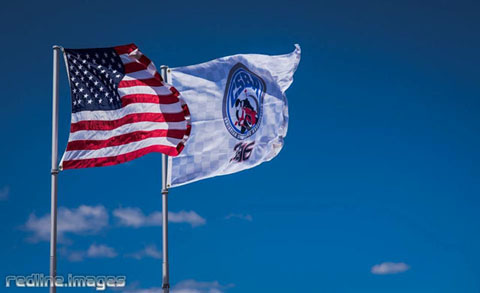 With the flags raised high, it was time to venture to the riders meetings. After the rules of the track were reviewed, we headed back to tie down the tents, as it was quite an extremely windy day for us. (Notice how the flags were flying?) So much so that we had to partially dismantle our area to help block all the wind. Right around this time I grew more and more aware that I was sick (with mounting temperature) and needed to go lay down before I fell down. I hung out long enough to hear the track day scripture that our CSBA President delivered and also serve a little lunch, which I'm sure didn't help with my stomach woes. Unfortunately, that would be the last time anyone saw me in attendance since the flu virus claimed me in full force and I was down for the count for the remainder of the day.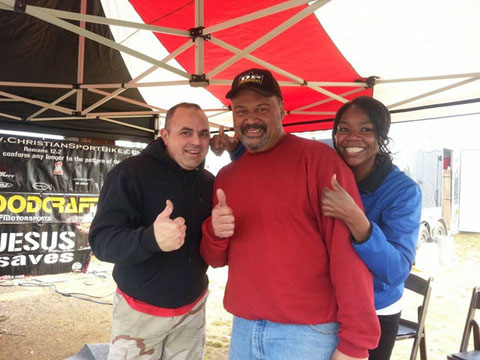 I'm so very thankful to our family, friends and members that not only secured all the equipment and packed up the trailer, but also towed the trailer all the way back to my home. I was just too ill to drive home Saturday night, so I stayed the night and left the following day. In our ever growing task to build on this venue and introduce more riders to controlled track day racing, we support our continued vision of what the CSBA "Day @ the Races" mission is all about: "...to enjoy a joyful spirit and fellowship with fellow riders, while always learning and testing our limits for this passion we have for 2 wheeled movement. We shouldn't be afraid to test our limits as that's how true growth in anything is experienced..." If you've never done a track day, do yourself a favor and try to get in at least one session. It will surely make you a better street rider. The pace is yours to set; grab a partner and explore.
Thanks again for everyone's support in our ride/event and our efforts for the CSBA "Day @ the Races" venue. Come out and enjoy our next riding event which is the "Blue Mountain Run" on May 2nd, 2015. Facebook Event Page: (https://www.facebook.com/events/1441102402846804/) Hopefully we'll see you there!

You can view additional pictures from this event on the Facebook Forum Page (https://www.facebook.com/groups/ChristianSportbike/), at this event's Facebook Event Page (https://www.facebook.com/events/1493874077567723/) and in this forum, just below this post by our very own "Redline Images" Partner. (http://redlineimages.smugmug.com/Motorcycles/Christian-Sport-Bike-Associati/CSBA-Day-The-Races-April-2015/)
Scripture for Track Day Event - April 11-12, 2015
We were blessed to have two powerful men of faith to deliver the message – Mark on Saturday and Joe on Sunday. Outlined below are accounts of those messages:
Scripture: April 11th, 2015
Today I want to talk about beliefs vs. convictions. When I speak of convictions, I don't mean being found guilty in a court of law. What I mean is living and, if you have to, dying for something for which you believe. You see, "beliefs" are something that can be fluid, we can change them, almost like an opinion. A conviction is when you drive your stake in the sand and make a stand for something no matter what. When I think of the two, it reminds me of a website that you can find on your phone and a printed dictionary that was published. With a website, if what you say is found to be incorrect or unpopular, you can change it in a few keystrokes. Also, to put up a website is relatively inexpensive and you can do it yourself. On the other hand, to publish a dictionary to "put it in writing" and it's very expensive. In addition, you have to have a publisher agree to it and be willing to put their name on your work as well. Did you know a dictionary also takes a great deal of time to assemble? There is a large staff that undertakes this project and numerous experts called in to advise on various professional and technical matters, such as medicine, the law, engineering, and linguistics.
In Hebrews 6:13-20 we read these words, 13 When God made his promise to Abraham, since there was no one greater for him to swear by, he swore by himself, 14 saying, "I will surely bless you and give you many descendants." 15 And so after waiting patiently, Abraham received what was promised. 16 People swear by someone greater than themselves, and the oath confirms what is said and puts an end to all argument. 17 Because God wanted to make the unchanging nature of his purpose very clear to the heirs of what was promised, he confirmed it with an oath. 18 God did this so that, by two unchangeable things in which it is impossible for God to lie, we who have fled to take hold of the hope set before us may be greatly encouraged. 19 We have this hope as an anchor for the soul, firm and secure. It enters the inner sanctuary behind the curtain, 20 where our forerunner, Jesus, has entered on our behalf. He has become a high priest forever, in the order of Melchizedek.
Abraham didn't just have a belief in God, he backed it up with conviction. He stepped out in faith when he had nothing but God's promise upon which to rely. Notice in verse 19 our hope in God is described as an "anchor for our souls", what a profound statement upon which we can base our convictions. Our next passage is II Corinthians 5:11-21 which says,
11 Since, then, we know what it is to fear the Lord, we try to persuade others. What we are is plain to God, and I hope it is also plain to your conscience. 12 We are not trying to commend ourselves to you again, but are giving you an opportunity to take pride in us, so that you can answer those who take pride in what is seen rather than in what is in the heart. 13 If we are "out of our mind," as some say, it is for God; if we are in our right mind, it is for you. 14 For Christ's love compels us, because we are convinced that one died for all, and therefore all died. 15 And he died for all, that those who live should no longer live for themselves but for him who died for them and was raised again. 16 So from now on we regard no one from a worldly point of view. Though we once regarded Christ in this way, we do so no longer. 17 Therefore, if anyone is in Christ, the new creation has come: The old has gone, the new is here! 18 All this is from God, who reconciled us to himself through Christ and gave us the ministry of reconciliation: 19 that God was reconciling the world to himself in Christ, not counting people's sins against them. And he has committed to us the message of reconciliation. 20 We are therefore Christ's ambassadors, as though God were making his appeal through us. We implore you on Christ's behalf: Be reconciled to God. 21 God made him who had no sin to be sin for us, so that in him we might become the righteousness of God.
If we want to follow God, we need to follow Christ's example. We need to have His love and take up His mission: to reconcile the world to God. A foreign embassy is said to be the sovereign territory of the country it represents. For example, the Brazilian embassy in Washington, D.C. the ground it sits on is considered by international law to be Brazilian territory. Also, the ambassador is said to be the embodied representative for that country. When he or she speaks she does it for the country and/or its leadership. In this same way, we who choose to follow Christ are to speak for Him and be citizens of Heaven. My final passage is Colossians 2:6-7 which says:
6 And now, just as you accepted Christ Jesus as your Lord, you must continue to follow him. 7 Let your roots grow down into him, and let your lives be built on him. Then your faith will grow strong in the truth you were taught, and you will overflow with thankfulness.
Read this passage above again, for in it contain your marching orders for you who follow the Christ. Will they be just your "beliefs" or will you live them as your convictions? May God bless you all.
Scripture: April 12th, 2015 (Outside vs Inside)
Outside
Shiny bodywork
Nice paint
Marchesini wheels
Termignoni exhaust

Inside
Engine- If the engine is sick can you win?
:::Spun bearing
:::Broken crank
It's what is on the inside that matters. You know as well as I do that there are some pretty fast but UGLY motorcycles out there… Would Valentino Rossi be any slower if his bike were painted puke green with a Wal-Mart spray can with no decals? No he wouldn't. The bike would still be the bike in spite of its outward appearance.
Man has long been about the show. We can be more concerned with what other people see than what we really are. Speaking for the men now, we are afraid to admit failures because we think others will see us as weak. So, we hide our fears, our emotions and our honest thought from others. We put everything through a filter and only share what our societal acceptance filter will allow.
God did not put us here alone. There is no shame in sharing your concerns, fears and dreams with each other. God wants us to fellowship with each other, in Him.
God does not expect perfection. He knows we are sinners. He did however, make a plan for us to make good on our failures. It doesn't involve pretty paint, Marvic wheels, or carbon exhaust cans. It doesn't require two good legs, a pretty face or a straight back.
In Romans 10:14 it says: " For everyone who calls on the name of the Lord will be saved." And, in John 3:16 it says:"For God so loved the world, he gave his only begotten son, so that whomever shall believe in him will have eternal life." In Matthew 11:28 the Jesus says: "Come to me all of you who are weary and burdened and I will give you rest"
There are many other passages we can turn to but I have yet to see qualifiers in any of them.
When salvation is dealt with in the Bible, the passages always speak in terms of "any" and "all" and "whomever." Nowhere does it say "only the pretty people" or "come to me if you are a nice person." The offer of the salvation of Christ is there, no, HERE for EVERYONE!
God loves each and every one of us the way he made us. All you need to do is love him back and accept His gift of Jesus' Sacrifice on the cross. That's it. Period. Your relationship with Him will then change you and you will do God's will and live your life as He has guided because you want to, not in exchange for anything.
In closing, as I usually mention in previous race reports; No matter how fast you run your race, or how great your skills are (on and off the track), we are all created for God's purpose and should humble ourselves in our gifts and not over shadow those with lesser talent in our excellence areas. Be of good fruit and shed the bad rotten fruit.
Blessings to all!
Leave a comment