The February meeting for the CSBA began with minimal fanfare as Rusty arrived at The Cheesecake Factory shortly before 11AM to find no one he recognized. Soon after, he was joined by Derek "Tiny" Snead and we began discussing last-minute cancellation messages and catching up on the last few months. We were soon joined by Rick Johnson, who was followed by Allan and Nancy Curtis. We finally decided it was about time to ask for a table and we were then joined by the man we were all eager to see: Andy Rohrer.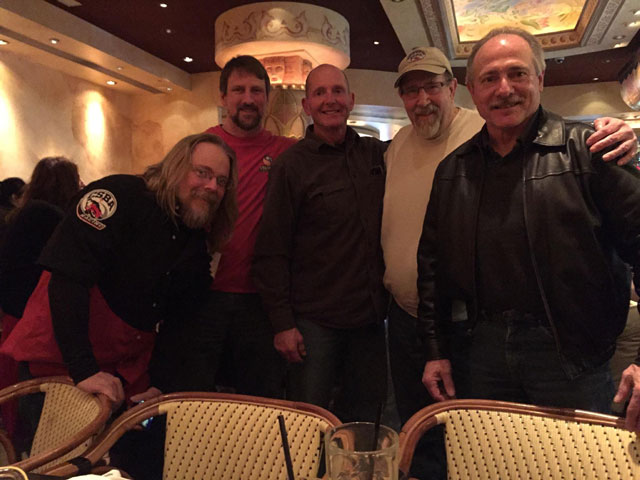 Photo of some of the group
After we were seated, we invited Andy to share his dramatic story of the last year and a half. He recounted for us the details of his battle with a rare strain of Hepatitis C and his need for a liver transplant several years ago. Two years ago he entered an experimental treatment to remove the disease completely. In the process of this treatment, however, a device from a previous hernia surgery opened a micro-tear in his colon, so as his body was becoming septic, he believed the symptoms were side effects from the drug treatment. By the time the real problem was discovered, his kidneys and borrowed liver had shut down and he was, again, in need of a transplant. However, the doctors determined that he was too weak to endure the surgery to repair his colon and, even more so, the transplant surgeries.
So, what followed is a harrowing story of stop-gap measures by the doctors in the face of near-death frailty and a miraculous overnight recovery at precisely the right moment that a compatible liver and kidneys became available. What then followed is an equally grueling account of a long recovery process in the hospital and a couple more medical rehab facilities before he was finally able to return home, after several months of being away. To see him now, you would never know it. He has regained much of the strength he lost while being bedridden for so long, but still has a long road to go to recover some endurance.
Since returning home, he has verified that his beloved Ducati still runs (it started right up on the first try) and is raring to go. In the process of one of the surgeries he partially lost the use of his right arm and hand, which is believed to be the result of a pinched nerve. He is undergoing physical therapy for this, as well, and hopes to be able to ride in the not-too-distant future.
After hearing Andy's story, and peppering him with questions, we tried to catch him up by sharing some of the stories from the rides last year. He also shared that his favorite pastime while being laid up was to watch the MotoGP races on his tablet; how exciting last season was and the hopes for this coming year of racing. Alas, he only had Rusty to share in this conversation with him, so it was relatively short-lived.
From there, we all went our separate ways to consider that we had spent our day with a living miracle. Andy is eternally grateful to be alive and he is quite certain that God the Father rescued him from certain death for a greater purpose in his life. This is going to be fun to watch!

Photo of Derek and Andy
Andy's Story - The Love and Gratitude for Organ Donation
Leave a comment