-Lining up to get started -
It's always a blessing to enjoy our CSBA Friends and Family; and today was another eventful day in the life of the CSBA adventures - join us for another action packed episode – read on….

Brrr – The day started quite cool. When I pushed out, I was riding in 40º temps, but the day was calling and forecasting for mid 50s, so I was ready to enjoy the roads. With fresh rubber and certified (LS) approved chain, I was ready to get some twisties in. I arrived on-site just before 9am, only to find our crew had just gone in to start their meal. So much for an early start.

To my surprise we had a cameo appearance by one of our CSBA members (Larry S) who is recovering for a duel he had with a cager. Thank God he arose victorious in the end (still with us) but not without some bumps and bruises. We won't call him T-Rex (inside joke) just yet, but he's working hard to be back to 100%. It was great to have him with us for breakfast. During breakfast we learned that Pink Barbie (Ana) was having battery issues and was planning to sit this one out. The team wasn't having our star not in the ranks so Mike G and KC to the rescue – they ran over to her house and got her going so she could make the ride – way to go team! We delayed our leaving time to accommodate, but no one had a problem if it meant the sun would rise higher and shed some heat on the day. We had one new rider with us, so to save time I went over the rules of the ride and road with him so when Barbie and our two heroes returned, we could leave immediately.

The time now – 10:22a and we're really behind. What else could go wrong? Yep – you guess it – our man Rick J caught a pin/nail dead center in his rear tire and it was losing air. Within 5 miles we had to pull off. Rusty brought up the rear with the report that Rick was going to get his bike towed and for us to keep going (but that didn't stop him – more on this later) Finally, we made our first turn and got up on pace to start our ride. I think I looked down at the time and it was nearly 11am. Time to make up some time.

We were blessed with a clear day with clear roads. Aside from the gravel here and there, we didn't encounter any wet leaves so we were at least able to get up to pace for most of the ride. We ran for the most part with 2 groups (Pink Barbie led the cruiser group – very well I should add) and I had the rest with Russ mid-ship if we got separated. Every now and then KC, Cory and I would pull ahead of the core group – but we'd bring it back to keep it interesting. I failed to turn on my camera but Cory did manage to capture a few moments during the day of the fun we had. There was a short sprint when we ran on the back roads with a Chevy Cruze that knew the roads very well (check out the Facebook event to see the footage) so fun was had for all. We finally arrived to the lunch spot just before 1pm and hung out before ordering until about 1:30, and then the cruiser group arrived. The lunch spot was very busy by now, but luckily for us we did call ahead and they knew we were coming, so we're very thankful for our friends at Barley Creek for accommodating and hosting us again. They always treat us great there! (see picture below)

When we left the restaurant, we could hear the rapid fire of air guns in the valley below – there was a paint ball war going on. We could hear the team leaders yelling out the signals and the munitions rifling through the air. They sounded to be having a real fun time – and so were we! I used that backdrop in which to share my message for the ride – "The Trap of Busyness and the Art of Still".

As I've shared many times, CSBA rides are never boring. Do you remember me sharing about Rick J that had the flat earlier? Well not only did he do a roadside repair himself, little did we know he was back up and running the route. He caught us before we left the lunch spot and was ready to get the afternoon in with us. Talk about dedication. I'm thinking I need to carry a plug kit now after that testimonial. It was so good to have him back with us.

I got a little turned around after lunch (must have been that good Po'boy fish sandwich I had) and took a wrong turn out the lunch spot, on my way to the gas station. I ended up bringing us up to the scenic overlook on the very top of the Pocono Mountain. It would have been a cool thing if we weren't all low on gas. lol – Chris H was familiar with the area and brought us back on route and to the gas station pronto. After a much needed gas up, we were all presented and accounted for. With everyone reconnected at the gas station, it was time to press out for our afternoon route. Current time: 3:30p Since I was feeling full and lazy, I figured why not let Pink Barbie lead-point for us for a bit. That lasted all of maybe 2 miles when she gave me the pass sign – so I strapped up and got us going again. Needless to say, the entire ride back was all back roads – we had fun.

In summary as always, it was a great day of riding. The weather wasn't ideal (only crested to maybe 57º), but we had adventures as usual. Our ride ended at the popular meet-up spot of Sheetz in Bethlehem, where we later ran into other friends. We all hung out another hour or so, enjoyed conversation, laughter and general fellowship. For those that didn't make it out with us, you were missed. I'm not sure if we'll have our December ride, but I'm pretty sure this was to be my last ride of the season. We said our good-byes and parted ways for the last leg of the day – the ride home. I got home just as the dusk was capping over the sky. A great day of riding with great people – what more can you ask for?

I wanted to take this moment, as I always do, to thank everyone for your participation, involvement and giving attitudes on our rides. These rides are designed for you, our riders, to enjoy the roads with us. We're promoting a fellowship and an environment in which we want you to come and enjoy your love with others that share your passion of riding. Is it a lot of work to keep it organized and fun? YES – you bet it is! But it's so worth it for me to see you enjoy the roads with us as much as I enjoy your company.

We look forward to enjoying your company at our next street event "Berk's County Blitz" Ride. [www.facebook.com/events/166667850585976/] . This is a short ride but a fun one. If the weather is permitting, we'll be there – will you? For more great pictures of this event, visit our Facebook event page for our "Pounding the Poconos" Ride here: [www.facebook.com/events/152904725311459/] or visit us on our website at www.pacsba.org.

Again, it was great to have everyone with us. For those that missed this one, we look forward to seeing you in in December if the weather holds. Blessings to you al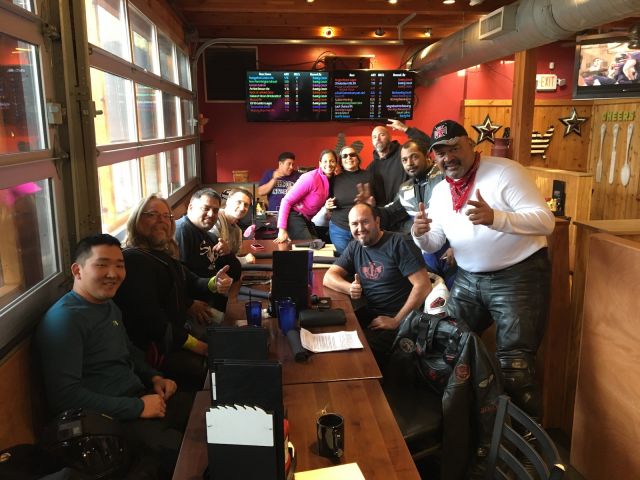 -The usual suspects for our "Pounding the Poconos" ride -
The Trap of Busyness and the Art of Still

"Then, because so many people were coming and going that they did not even have a chance to eat, [Jesus] said to [His disciples], Come with me by yourselves to a quiet place and get some rest..."
MARK 6:31 TNIV

Last year we covered the "Trap of Laziness" against our spirit – so today we focus on the opposite side of the spectrum – the "Trap of Busyness". Do you have days as highlighted in our focus scripture – days when you have so many demands on you that you don't see how you'll ever get everything done?

Why, in the midst of such a busy day, did Jesus insist His disciples leave the crowds to rest and be alone with Him? Because Jesus knew that the busier they were, the more they needed to rest and be alone with Him. It they didn't, eventually they would hurt themselves and those they were seeking to help. The same is true for us.

God knows the demands and responsibilities you face daily – at home, on the job, even in your church family and community involvements. In these tasks and responsibilities that you face, God also knows you need His wisdom to keep those things in perspective, requiring His strength to get them done well. There's an old saying, "if you want something done, give it to a busy person" – usually because such people understand how to segment their time, use prioritization and hopefully filter in proper rest time too. We all need quiet time and we should try to factor that into our busy life and schedules. Try to begin each day or set aside a few minutes in your day to be alone with God in His Word and in prayer. If Jesus found it important, shouldn't you? During this still period, a peace and calmness will shower over you, thus giving you rejuvenation to come back to your task at hand with more vim and vigor than before.

Never be so busy that you lose sight of the staples that bring us together – fellowship. Make time for your family and friends, while restoring your faith in Him. Make it a point to enjoy your quiet time with a loved one. You'll be happier and less stressed you did – He promises it and it works.

If this concept seems foreign to you or you don't know the Lord and want to learn more about him, please don't hesitate to talk with me, or your CSBA Brother & Sisters here – as we are here to be that light on the hill for you. Don't be on an island and/or afraid to ask. Blessings!
Leave a comment