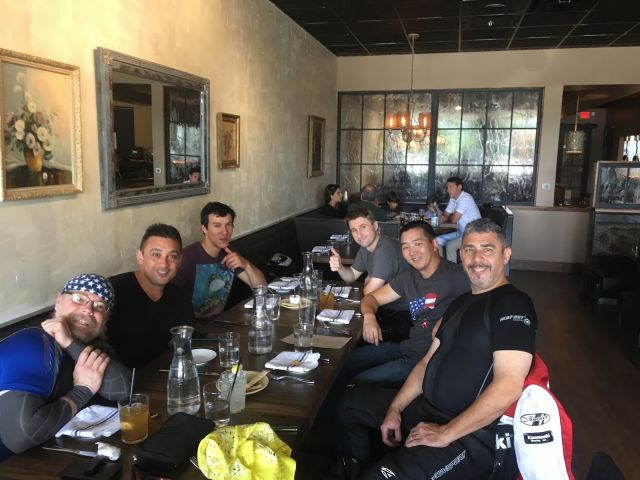 - The usual suspects at lunch – Hearth Kitchen – Kennett Square
We give thanks to God for His wisdom and His Blessings….

Rain Date Rides – Need I say more – always interesting… Rain date rides are usually not very popular – but that was not the case this time. Thanks go out to our 6 gentlemen and 1 lady (Bev) that came out to enjoy a big breakfast and a full day of riding with us. The roads weren't the best – but the company was outstanding! It was a BK Broiler of a day – but we were determined to get in some twisties as this represented our first official ride of the year (due to all the rain cancelations). We broke bread, enjoyed our stories, and then ventured out to prepare to launch.

After breakfast, we did our standard ride meeting and then prepared for our ride. I cautioned the team the roads were going to be challenging due to wash out, debris and other issues – and thus why were planning to dial down the pace a bit. Russ (aka Rusty Bucket) was most familiar with the revised route having done a recon on the roads recently, so he led us off.

The roads were a little wet and sure enough, we lost our trailing rider nearly in our first turn of our back roads route. We quickly got him settled – thank goodness no operator injury as it was just a low side into a winding left swing – no harm/ no foul. After a little roadside repair work, we were back underway. Hats off to being a good trooper and wanting to keep riding. (must remember to ride your own ride – the group will always wait)
Aside from that – the roads didn't disappoint.

Our normal lunch spot (since it was a Sunday) wasn't available to us – so we tried a new spot – its was opening day at "Hearth Kitchen" and they still didn't have their kitchen fully functioning. It took us a little longer than normal to get our food – and as a result, they gave us all a discount for our meals. We lost Ramon (since he was close to home in Philly) after lunch, so we pushed back and set out for part 2 of our Dive into Delaware.

As the day went on, we found drier pavement, which meant our pace got hotter. We dodged the gravel and road debris and by the last half of the day – everyone had a smile on his face. It sure was hot, but at pace – it really wasn't a problem. I wasn't totally familiar with the afternoon route and was like a runaway train a few times – I'm sure glad and grateful Russ was in the ranks to bring us back on course.
We finished our mission – safe and sound, which is the best way. As we were relaxing and exchanging our notes concerning the day's ride – a new rider approached us, wanting information about us. We shared our information and encouraged him to join us on a ride – maybe he'll come out and ride with us – time will tell. I'm just very thankful that we had the day to get in some back roads as it always feels good to get the wind on your back and the heart pumping. We ended our ride just shy of 3pm – not bad at all, considering how much ground we covered (did I say our pace was warmer in the afternoon?) We said our goodbyes – paired up and headed home.

I wanted to take this moment to thank everyone for your continued participation, involvement and giving attitudes on our rides and events. Whether you come out to ride or just break bread with us – we welcome your participation. These rides are designed for you, our riders, to enjoy the roads and have fellowship with us. We're promoting a fellowship and an environment in which we want you to come and enjoy your love with others that share your passion of riding.

We look forward to enjoying your company at our next track day event, tentatively scheduled for the end of September. Visit our CSBA Day @ the Races Event page (www.facebook.com/CSBA.Day.at.the.Races) for additional information or our next street event "Shamokin Screamer" Ride/Run. [www.facebook.com/events/] . All our rides are great – so try to arrange to make it if you can. For more great pictures of today's event, visit the face book event page for our "Dive into Delaware" Ride here: [www.facebook.com/events/1857079747938953/] or visit us on our website at www.pacsba.org.

On behalf of the CSBA and our chapter, we give thanks to you for coming and enjoying the day with us. See you again soon and don't hesitate to reach out to me (or any CSBA member) with any and all questions you may have about our rides or the CSBA Organization. Blessings to you all!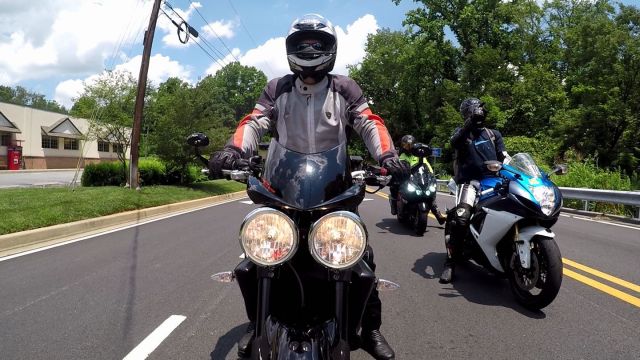 - The morning – lining up - 7 riders in attendance for the Rain Date Reloaded Ride -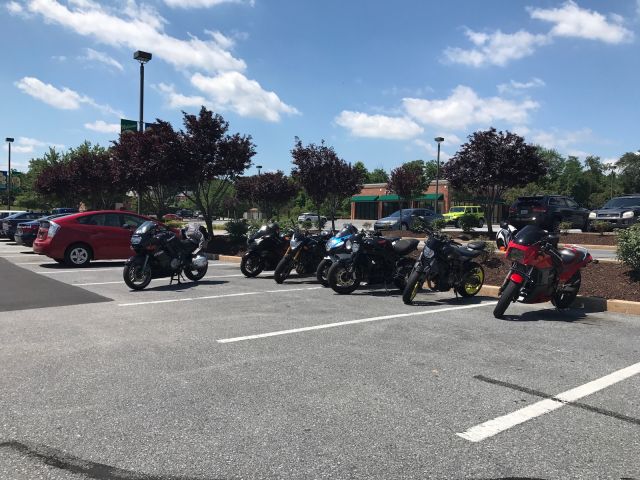 - 7 operators present and accounted for at our Lunch stop –
TRAP OF LAZINESS…
"Be diligent in these matters; give yourself wholly to them, so that everyone may see your progress…"
1 TIMOTHY 4:15 NIV

Our time is a critical factor in our lives, and how we spend it will determine many things for us. There's an old saying, "do the same things and the same results will happen – however try something new and anything can happen…" The trap of laziness can be our downfall on many fronts, and we have to safeguard against it if we want continued growth as humans in both our personal and professional lives. Our muscles know it, and so do our relationships. Finding the time to fit everything in is so hard most would say… we don't want to make excuses, but how do we prevent ourselves from becoming "lazy" in the most important things that do matter – our relationship with our loved ones and our commitment to Christ as Christians?

Well to help with this, let me draw an illustration to a little exercise – the result of which may (or may not) surprise some of you. For just a moment, think and contemplate about all the things you typically do in a normal average 24 hour day – sleeping, eating, working, (some of you enjoy shopping I'm sure), watching TV, surfing the internet on websites, social media, etc.. Now, mentally – give a number to each of those activities for that 24 hour period.

Review your list – how much of your time is used for things that really aren't important or may even be morally or spiritually harmful? I'm not here to judge –but be honest with yourself – Like TV or the Internet, for example. Are the things you're watching and doing building you up, or tearing you down as a person. We all need to relax, and I'm not suggesting all entertainment is harmful or bad – but is it good or rotten fruit your eating? How much of your spare time is simply being wasted?

One last question: How much time did you give to your family, your loved ones and to God? Remember: Satan doesn't need for us to fall into gross sin in order to defeat our souls; a large dose of laziness will do the trick just as well if we're not careful. Put Christ first in your life, and commit more of that wasted time to him, your family and your friends – you might find you have a lot of time to spare for great things to happen in your life.

As I've shared before, If you're carrying a burden – remember, you are not alone. Your Brothers and Sisters are here with you and for you - seek them out, as we're always stronger together than apart. My door is also always open - Blessings!
Leave a comment